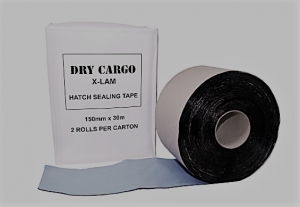 We are delighted to announce the launch of our new hatch sealing tape, DRY CARGO X-LAM.
In response to market demand, we have developed a new tape under the DRY CARGO brand – DRY CARGO X-LAM. This cross-laminated construction tape (hence X-Lam) has now successfully completed all laboratory and operational tests. The tape uses very specific raw materials – this has enabled us to achieve the strength and flexibility required for marine operations from a tape of thinner cross-section (nom. 1mm). DRY CARGO X-LAM has been subjected to the same demanding test standards as the other long-established DRY CARGO tapes and we are confident that it will stand up to the rigorous demands of the marine industry, whilst offering a significant cost saving.
The tape comes in the industry standard, 20 metre rolls and looks like a traditional hatch sealer (albeit slightly thinner). It is ISSA/IMPA listed. Application and removal of the tape is a simple process.
All our DRY CARGO tapes are 100% manufactured in the UK and comply with stringent EU regulations ie) REACH. Our tapes (and Cullen Metcalfe) have a long standing reputation for quality and reliability – and we have been continuously improving DRY CARGO tapes in response to the availability of more effective raw materials and the increasing demands of the ever changing marine market for over 40 years.
This tape is now available to order to make an enquiry email: jennifer@cullenmetcalfe.com